Praying in Times of Uncertainty
We face various kinds of uncertainties in life. It comes in the form of a dreaded disease, a lost opportunity, setbacks in business and career, a failing marriage, or a wayward son. Moreover, the damaging interruptions of the COVID-19 crisis and the onslaught of typhoons and floods are common challenges for all of us. We are also challenged with the unjust ways in our world that keep many in the mire of poverty and ignorance while being further exploited to death.
The series of devotions are reflections from the book of Habakkuk to guide CCBCers in engaging with God in prayer and fasting through such a time as this.
Through the story of Habakkuk, we practice wrestling, waiting, watching, listening, interceding, and worshipping as practice of praying. Instead of panic, we PAUSE.
As we pause through prayer and fasting, may we learn to:
Sustain intimate fellowship with God even through matters of unanswered queries on suffering and injustice,
Develop a deeper passion towards seeking the honor of God's glory, and
Wait and listen to God in prayer.
How to make the most of the devotional guide:
Set a time and a quiet place for the next six days to meet with God in prayer and devotions for at least half an hour.
Bring your Bible, journal, and this devotional guide.
Set your mind to worship either by singing or by being quiet in your heart and mind. Follow CCBC's Spotify for the worship playlist.
Pray for God to speak to you and as you meditate and pray.
Read the suggested Scripture passage carefully. Observe and note what words or images resonate with you. Use the reflection questions as a guide.
Jot down your thoughts. Turn it into prayer. You may use the guide in your devotional as well.
Join us in our Daily Live Prayer at 6:00pm on CCBC's Facebook page.
PAUSE Devotional, will be your daily guide as we go through and learn from Habakkuk.
Option #2: LISTEN
Sit back and listen to the daily devotional audio narration in English and Taglish through SoundCloud.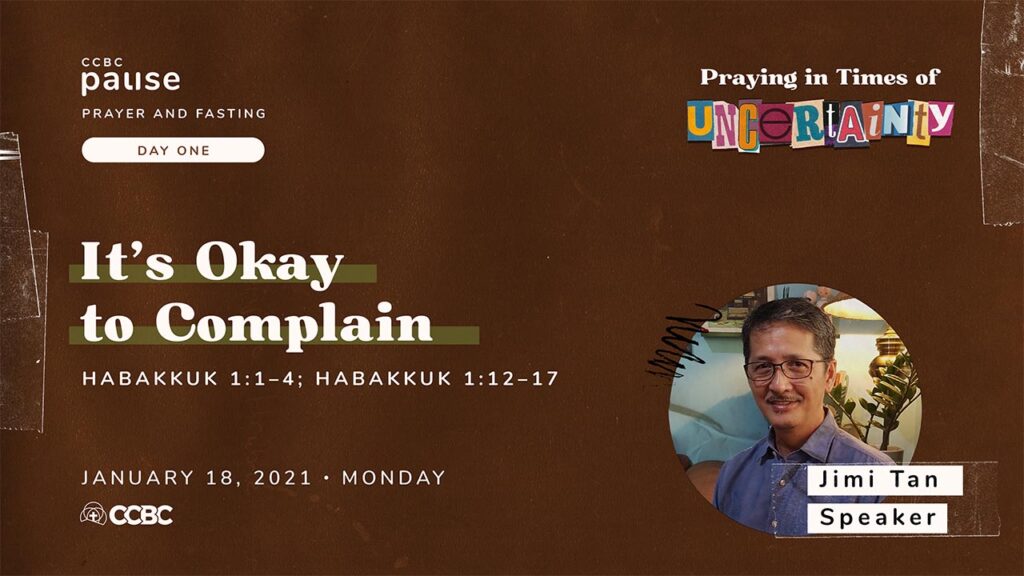 Daily Live Prayer (Facebook)
We will get together every night from January 18-23, 2021 (Monday to Saturday) 6:00 PM via Facebook.
Spotify Playlist
Enrich your prayer and fasting journey through meditative worship songs.
What is Fasting?
Why Fast?
Preparing to Fast
Caution!
Different Types of Fasting
What is Fasting?
"Consecrate a fast, proclaim a solemn assembly; gather the elders and all the inhabitants of the land to the house of the Lord your God, and cry out to the Lord." —Joel 1:14
Throughout history, God has called on His people to humble themselves through prayer and fasting. As a spiritual family, we practice prayer and fasting to deepen our intimacy with God. Fasting is a spiritual weapon God uses to advance His kingdom, move nations, spark revival and ultimately bring victory to His people. Prayer and fasting are the only disciplines that fulfill the requirements of 2 Chronicles 7:14.
"If My people who are called by My name humble themselves and pray, and seek My face and turn from their wicked ways, then I will hear from heaven, will forgive their sins, and will heal their land"
—2 Chronicles 7:14
If you fast, you will find yourself being humbled. You will discover more time to pray and seek God. As He leads you to recognize and repent of unconfessed sins, you will experience true blessings from God.
Fasting is vital part of your life as a Christian. Fasting is the voluntary abstinence from food or something for a specified duration of time in order to earnestly seek God's will, or to be more intimate with God as we spend extended time in reading His Word and spending time in prayer.
Biblical fasting is not just refraining to eat food but it is abstinence from food with a spiritual goal in mind. It goes hand in hand with prayer and is also a form of worship. Luke 2:37 says that fasting is a way of serving God, while Acts 13:2 says that fasting is ministering to God.
Let us begin this season with consecration and being set apart for the Lord.
Why Fast?
Preparing to Fast
Caution!
Different Types of Fasting

We hope you had a blessed prayer and fasting experience!
At CCBC, we love to hear God-moments and stories! Please share with us your experience during this prayer and fasting week. Know that we will handle all submissions with full confidentiality and will ask for your consent if ever we would want to feature your story.
Maaari niyo din ibahagi ang iyong story through Facebook by tagging @CCBCph at gamitin ang hashtag na #CCBCpause.