I am Cecille Yumang, a wife and a mother of three. I have been a member of CCBC since 2002 and have joined a life group last 2017. My shepherd is Liz Teng. Being a part of a life group is life-changing and a blessing. We have gained more wisdom and have grown in our spiritual maturity. We learned to desire more intimacy with our relationship with our Father in Heaven, through the encouragement and support of our life group. When we are struggling with our individual problems, we benefit greatly from the biblical insights shared by a wiser and tested follower of Christ, who has walked with Jesus for many years.
Last May, upon the encouragement of my discipler, I enrolled in Leadership Essentials: Disciplemaking Course.  We studied the model of Christ for multiplication as He identified, challenged and equipped His disciples.  We also learned practical tips and were equipped on how to facilitate small groups.  As a result of this training, I am now leading a Learning group of women.  Praise God!
Jesus Strategy Overview is part of the Disciplemaking Course where potential shepherds are equipped to handle small groups.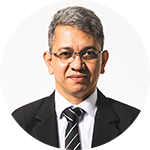 Pastor Bot Abelado
Pastor Bot is an associate pastor at Capitol City Baptist Church, and is focused on leading our Witness, Missions, and Outreach Ministries.