We are a church family and we take care of each other. Through all the troubles of 2020 we have propped each other up.
We strengthened each other through our worship and fellowship, mostly online.  We gave and continue to give financial and logistical support for relief operations (Please refer to the Kalinga report).  While doing all these things, of course, we had our own share of troubles too.   Our members were not spared from personal problems, illnesses and deaths. With all the quarantine restrictions, God taught us how to do online sharing and prayer times, and even how to do hospital visitations and memorial services online. On the other hand, we also celebrated weddings and child dedications virtually. We even did online office and vehicle dedications. On carefully planned occasions, we had face to face gatherings.
With all the restrictions, God has opened opportunities for us to be better connected. We have connected and reconnected with many people from all over the world.  We became borderless.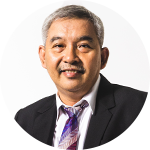 Pastor J-cip Lim
Pastor J-cip is the Executive Pastor of CCBC.