Today, we are blessed to hear the message from the Lord through our former CBAP General Director and now, the National Director of the Philippine Council of Evangelical Churches (PCEC). Listen to this man of God, Bishop Noel A. Pantoja through our Worship Service today.
Starting tomorrow, Metro Manila will be under General Community Quarantine (GCQ). I will not elaborate on what GCQ is all about anymore because we have been hearing about what it means on television and in the internet. However, mass gatherings are still NOT allowed. Therefore, we will continue to stay in our homes and worship together online through our Facebook and YouTube channels. We also have a new online platform. Check it out here!
Many are asking when are we going to hold worship services again and meet our brothers and sisters face-to-face? Nakaka-miss naman po talaga. Our church leadership has already formulated protocols based on the Government-released guidelines on mass gatherings. One of those, for your information, is that we will NOT open the CCBC building immediately after the ban for mass gatherings is lifted.
We will wait for two more weeks, and then open CCBC-West Ave on the THIRD Sunday AFTER the ban is lifted. We will also observe social distancing, regular wearing of face mask, thermal scanning at the entrances, and all other required protocols for everyone's safety and well-being. We know that not everybody will be able to come physically to worship in CCBC, so we assure you that our online worship will continue, together with our Life Essentials, and other church activities. It means, you can also worship simultaneously with those who are able attend physically at CCBC, 111 West Ave.
I invite everyone to join us every Wednesday at 5:30pm, as we hold our Midweek Family Prayer via Facebook Premiere. Let us pause for a while and spend a moment with our families to intercede for our country, our leaders, our church and our brothers and sisters. I also would like to invite you to join our Saturday Dawn Prayer at 6:00am via Zoom. Details will be posted soon.
One of the issues that arises due to the long quarantine period is depression. According to studies, "Filipinos were struggling with depression long before the threat of COVID-19 shut them in their homes or stranded them abroad." We, believers, are not exempted from depression. It would be helpful if we will communicate our thoughts and feelings to someone whom we trust: spouse, friends, life group leaders, pastors, or if you need professional help there are many professional counselors who are willing to help us in this time of pandemic. Also, according to studies, Filipinos are one of the happiest people in the world. We hide our deep feelings with smiles. Brothers and sisters, if you are struggling with depression or any emotional or mental issues, don't hesitate to approach anyone of your pastors or leaders as we are more than willing to help you and pray for you.
Praise be to the God and Father of our Lord Jesus Christ, the Father of compassion and the God of all comfort, who comforts us in all our troubles, so that we can comfort those in any trouble with the comfort we ourselves receive from God. For just as we share abundantly in the sufferings of Christ, so also our comfort abounds through Christ.

2 Corinthians 1:3-5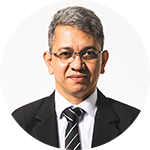 Rev. Marcelo "Bot" Abelado
Associate Pastor