2021 has been a major period of adjustment for most people with lock downs and all. As discovered in a nation-wide survey, 93% of Filipino families have experienced losses in their regular income because of job loss and reduced economic activity. So, our men have been busy making adjustments within the "new normal": cutting down on consumption, finding ways to augment family income, spending more time with wife and children. This includes understanding and doing church life at home. 2022 may be the right time for a fresh start in ministry involvement. But, it cannot be just going online, listening and talking; men like to go out and do things, bring back experiences from community work or mission adventures. They like to be physically engaged in reaching out to people, helping build lives. It's time to challenge and open CCBC men to take on concrete activities related to Community transformation where they can help people put up small businesses, help people learn new skills, find work, support families up to the point where they become interested in knowing Jesus. Let 2022 be a year to support missions, where CCBC men can rise up and start doing James 2:14-17.
James 2: 14-17 "That good is it, my brothers and sisters, if someone claims to have faith but has no deeds? Can such faith save them? Suppose a brother or a sister is without clothes and daily food. If one of you says to them, "Go in peace; keep warm and well fed," but does nothing about their physical needs, what good is it? In the same way, faith by itself, if it is not accompanied by action, is dead."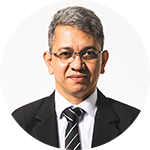 Pastor Bot Abelado
Pastor Bot is an associate pastor at Capitol City Baptist Church, and is focused on leading our Witness, Missions, and Outreach Ministries.